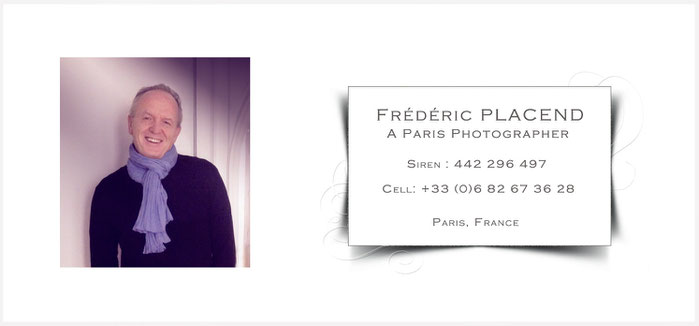 I am a Paris-based photographer whose portfolio includes fine art and corporate photography.
Discover my work on my website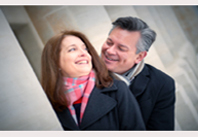 "Frédéric, We both wanted to extend a deep personal Thank You for making our engagement so very wonderful ! Working with you was the highlight of our trip! We have had the opportunity to share the pictures with friends and family - and everyone loves them! You did an amazing job, and we are very grateful. Each picture looks like it is from a magazine!
It was also great to get to meet you, learn more about Paris. You gave us an insight into your life, life in Paris and the best hot chocolate! It was like we were meeting an old friend in Paris.
Your patience with all my questions, directions as we took the pictures, and excellent eye allowed us to capture a wonderful moment as we start our new lives together. 
Thank you so very much! We wish you and your family all the best!"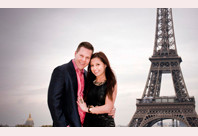 "Frédéric is a true professional. Working with him was an absolute pleasure! We were very lucky to find such a wonderful photographer and who spoke English so well. During our photo shoot, Frédéric took beautiful photos not only near the most important Paris landmarks, but also took us to find hidden gems off the beaten path. We would have never had such a fulfilling experience with anyone else. He made the entire experience incredibly comfortable. We were thrilled to receive our beautiful photos so quickly. We look forward to the next time! It is without absolutely any reservation that I recommend working with Frédéric."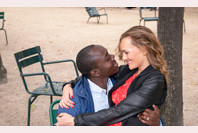 "Frédéric was a pleasure to work with, showing us around some of the key sights of Paris while shooting our photos, as well as finding hidden spots we would never have found without his help. We felt like we got a mini guided tour along with our photos! The mix of locations for our photos makes for wonderful memories. It was a fantastic way to spend a morning during our honeymoon, celebrating our wedding!"
"My fiancé Nick and I traveled to Paris for a week in December of 2014. Before we traveled to Paris, we did some research online to find a photographer to take our engagement photo session while there. Almost immediately we found Frédéric from aparisphotographer.com. From our first interaction via email until when we got home, Frédéric continued to make edits for us on photos, he was professional and easy to work with. The photos are absolutely breathtaking! We wanted to have the Eiffel Tower in our photos and Frédéric knew the best places to go for the best views. Overall, it was a wonderful experience and we would definitively recommend Frédéric from www.aparisphotographer.com to anyone looking to have a photography session done in Paris."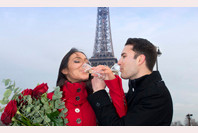 "I met Frédéric online and booked him to shoot our engagement. I explained that I wanted to get some 'in the moment' surprise pictures. Frédéric helped me plan the moment and it worked perfectly. The pictures and timing were beautiful. I am extremely happy with Frédéric's work and professionalism."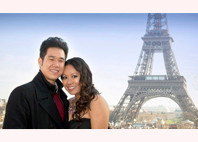 "Frédéric made our engagement pictures a dream come true! He was very friendly and was kind enough to be our tour guide while we were on our photo shoot. I was truly amazed at the difference between the unedited and edited photos! Thanks again!"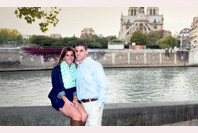 "Frédéric was incredible to work with from start to finish. My fiancé and I booked our trip to Paris in October 2014 and unbeknownst to me; my fiancé had hired Frédéric to secretly follow us capturing pictures of us and our engagement! After our engagement, Frédéric took us all around Paris for the next 3 hours taking fantastic photos at some of the best places around Paris! Not only did he take us to some of the well-known places such as the Louvre, the Eiffel Tower, and Notre Dame de Paris, but he also took us to places that were much more secluded which made for some of my favorite pictures (particularly those next to the Seine River!)."
In addition to taking great photos, Frédéric was able to quickly turn these photos around and make them available to us. Although the couple days it took Frédéric to develop the photos seemed like an eternity it was definitively worth the wait, as the photos came out spectacular. We used  a couple of these amazing photos to announce our engagement to our family and friends, who were in awe of Frédéric's ability to capture our special moment.
Frédéric did an amazing job, had a great personality, and truly captured one of our most memorable moments with perfection. We would absolutely recommend him to anyone looking for a Paris photographer. A truly great experience and pleasure to work with that just added to our amazing day!"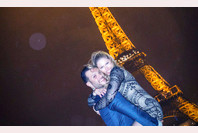 "Frédéric was not only a great photographer but an excellent advisor as well in terms of proper setting for our engagement. I felt completely comfortable with him from start to finish and look forward to our next photo session in Paris! Frédéric, thank you for making our special moment such a success. Merci!"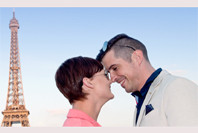 "I booked Frédéric for a surprise engagement in Paris on a Sunday in May. We were in contact for a month before to arrange all the details on where to meet and a secret code so as not to make my fiancé suspicious. He was great at giving directions etc on where to meet and go. As the big day got closer my plans changed and I asked to move the date to the Saturday then bad weather was forecast so again I changed to the Friday! Each time Frédéric was flexible and understanding. In the end it was perfect! Weather-timing-location-surprise, the whole lot! I can fully recommend him and the photos we are very happy with! All the best for the future Frédéric."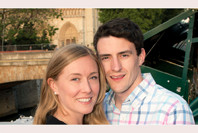 "Frédéric was awesome to work with as we hired him for some engagement photos in Paris. His punctuality, personality, and expertise were all top notch and made our experience very memorable. We received the photos from him within 3 days and were also quite impressed by his post-production work as well!"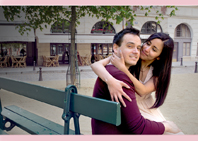 "Hi Frederic, We got the pictures and they are wonderful! We loved them so much! Thank you, it was a really amazing experience and a great souvenir of Paris :)"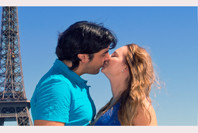 "We had a great time taking our engagement photos with Frédéric. He is professional yet easy-going so it's just a pleasure to work with him. He will suggest the best poses for you and the best places in Paris to take photos. I highly recommend Frédéric."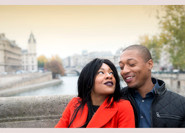 "Thanks for the info, but more importantly, thank you so much for everything Frédéric. Working with you was the best experience ever. Especially since it was so last-minute. The photoshoot was even accompanied with a tour/gypsy-safety/metro lesson. I'll be recommending you to everyone and leaving positive reviews on every website I can. Now all of our family and friends will get to see what we experienced on the most important day of our lives so far, and for that I am forever grateful!
Merci! Merci! Merci beaucoup!"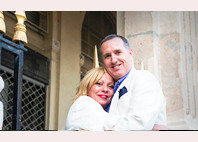 "I visited Paris last week for the first time with the intention to propose to my girlfriend. I wanted to document the proposal on the Pont des Arts and take some additional photos around the Louvre, so I did a search on Trip Advisor and contacted a number of Paris-based photographers. I ended up selecting Frédéric who bills himself as aparisphotographer.com. We coordinated by email the week before I arrived in Paris and Frédéric arranged to meet me at the Pont des Arts in the evening to shoot on the bridge and then take an additional hour of photos around the Louvre and Tuileries Garden. I had to reschedule the shoot after my fiancée lost her passport the day we were headed to Paris, and Frédéric was incredibly accommodating, moving the shoot back two hours. He was great to work with, had great ideas to pose shots and - best of all - had our photos ready the next morning so we could share our news with our family and friends on Facebook. I could not recommend anyone more highly. Great results, great price and a friendly and charming photographer - what more could your want ?"
"Frederic was able to masterfully match his accomplished photography skill with a native Parisian's touch. He used the magic of the city, innovative angle and lighting techniques, and a budding personality to create great moments/pictures that will stay with us forever. With Frederic, we received a warm professional environment, an avant-garde approach to photography, and a personal appeal to our best interests as a couple. I would highly recommend his services to anyone looking for a skilled artist behind the camera."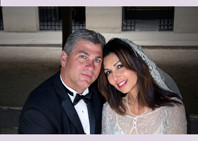 "My husband and I were uneasy about hiring a photographer in Europe without meeting him first, but Frederic put our minds at ease from the very beginning. He is so professional and an excellent communicator. Our wedding pictures are beautiful I highly recommend his professional services."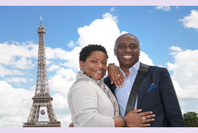 Frédéric did a wonderful job with our surprise engagement photos. He was very flexible and reasonable. He helped us to explore the real Paris. He knows the places for the best photos and he makes sure to clear the background for you! I recommend Frédéric without any reservation. We have wonderful memories of our engagement in Versailles. Merci beaucoup Frédéric.